In tradition of Valentine's Day, Medallion Press has two new jewels to adorn your shelves! Look for Ann Macela's Ruby imprint release Windswept and Hope Tarr's Sapphire imprint release Untamed.
Ann Macela, author of The Oldest Kind of Magic and Do You Believe in Magic, takes us deep into the history of Windswept Plantation in her Contemporary Romance, Windswept.
A terrible secret lurks in the papers of the Windswept Plantation, and its revelation will ruin the Jamison family name. To Barrett Browning, however, the collection of correspondence, ledgers, and journals is a treasure trove of potential publications sure to gain her a valuable promotion at her university. As a historian, her job is to root out secrets from the past and hold them up to the light, no matter the cost. The farthest thing from her mind is getting involved with the papers' owner.
To venture capitalist Davis Jamison, the pile of boxes is a headache he must deal with to protect the family. What better way to solve the mystery than to have an expert inventory the papers in his own house? He expects neither his cousin's frantic obsession to keep all the family sins hidden, nor the fierce need he comes to feel for Barrett. He's sworn never again to trust a woman with his property or his heart. Can he rely on Barrett to guard them both?
As the dark past—a tale of deception and murder—emerges, Davis's question becomes harder and harder to answer . . .
" is a book well worth reading."
~ Tammie King, Night Owl Romance
"WINDSWEPT is an engaging romantic suspense thriller that highlights 1830 plantation life in the Bayou through several journal entries weaved throughout the narrative…fans will enjoy this fine comparative look at the past and present residents of WINDSWEPT."
~ Harriet Klausner
Hope Tarr returns with the third book in the Men of Roxbury House Trilogy, Untamed.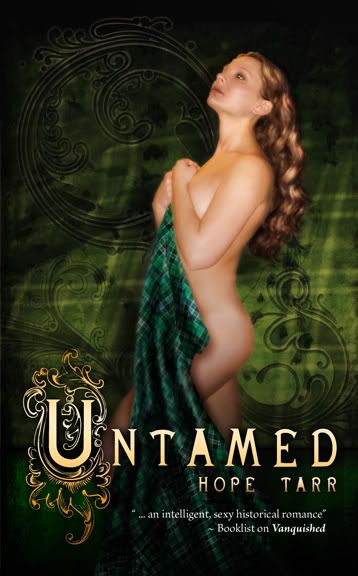 They were friends—brothers—the Men of Roxbury, their young lives spent in an orphanage together. Now they are men grown. Two have found happiness. But the third?
Patrick O'Rourke is a rough and ready Scotsman, and a "verra" successful businessman. Lady Katherine Lindsey is a beautiful English spinster, a gentlewoman. At least, so she seems on the surface. But when she finds herself blackmailed into accepting a marriage of convenience with the handsome Scot, she lets Rourke see another side of her.
Following a hasty wedding, Rourke sweeps a seething Lady Katherine from the elegant and refined drawing rooms of west London to his crumbing castle in the Scottish Highlands. His sole guide to wooing and bedding his apparently untamable bride is a copy of Shakespeare's "Taming of the Shrew," given to him by his two well-meaning friends.
As their lessons in humility progress according to script, however, Rourke discovers Kat's shrewish demeanor is a mask for a warm, generous, and loving heart. And, as the passion sparking between them flares to full-on flame, Rourke finds he may well be the one in danger of being tamed.
"I highly recommend this book to anyone who loves historical romance. You will definitely not be sorry."
~ Brenda Talley, The Romance Studio
"Hope Tarr's UNTAMED is exactly what a reader needs! Her lush settings are a perfect backdrop to a clever storyline. Just when I thought I'd figured everything out she'd put in a new spin to keep me hungry for more. Her characters are passionate, outspoken, humorous and honest. Readers everywhere should add Ms. Tarr to their must-read list."
~ Kerensa Wilson, www.romancejunkies.com
Look for the first two books in the trilogy Vanquished and Enslaved.
Thanks to all of our loyal readers, and we hope you all find a little jewel this Valentine's Day!
To find out more, visit www.medallionpress.com